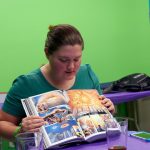 The April MKE Comicbook meetup was focused on a theme of "redemption." Before we started sharing our books, we discussed the theme of redemption in comics a bit. I find it pretty darn interesting that, for heroes, in order to have a "redemption tale", they first have to actually fail as a hero. For instance, the very name of a group of heroes as "Avengers" must make the assumption that something needs avenging, suggesting that the "bad guys" did win – at least one time. As was mentioned, "So many origin stories were based in a hero failing, and then having to redeem themselves," and "my mind went to heroes who were once villains…like Hawkeye, and his brother Swordsman…"
We had a unique moment of sharing that's never happened before: THREE people brought the same comicbook to share! KINGDOM COME, by Mark Waid and Alex Ross, was, as Luke said, " a redemption story for every DC character…it's just a fantastic series."
Following that DC lead, Kate shared DC's "52" series, which was "a general redemption story for all of the DC Universe, post-Infinite-Crisis. Publishing-wise, too, it was amazing, in that it came out on-time every week for a full-year!"
Though not a "redemption" story, Amber brought a book that interested us all – "Alex Ross: Rough Justice", featuring many drawings from KINGDOM COME and other titles.
Another book Kate mentioned was the manga, Naruto – "(when I think of redemption)…this book comes to mind every time!" Now, I just tried to read the plot synopsis, and that's dang complex. You can read it yourself! 😉
Jihan shared GENIUS, which has been mentioned here before – "once a generation, a 'genius' arrive, and this time it's a teen girl in South Central LA…"
He was part of the KINGDOM COME crowd, and pointed out the anti-immigrant/refugee scene, where the Justice League redeems themselves by standing up "for the little guys."
Jihan also mentioned THE DARK KNIGHT STRIKES AGAIN, the sequel to Frank Miller's seminal THE DARK KNIGHT RETURNS. But, the character who he saw get redeemed wasn't Batman, but SHAZAM!
John shared two children's books: THE WALL by Peter Sis, a story about Communist Czechoslovakia, and the author's childhood there, and THIS PLACE I KNOW: POEMS OF COMFORT, a book he bought for his kids, but that he finds himself reading when he's had a bad day.
I shared Christos Gage's ABSOLUTION, a story about a hero who becomes a serial killer, and does >not< seek redemption. Another book I shared was HELLBLAZER, which I realized wasn't quite such a redemption tale, as it was a "hit rockbottom and save yourself" story, when John's girlfriend broke up with him.
My other two books were definitely about redemption. The first was HERCULES, during the "Trial of Zeus" story, where the normally flippant Herc takes a more serious posture, stating how he, in his earlier years often acted thoughtlessly, resulting in many people's deaths, but now he works alongside the Avengers, to try and make up for the past failings of his. The other book was ULTIMATE SPIDER-MAN, a book whose main character is near-completely driven by a search for redemption. In this particular story, "THE DEATH OF PETER PARKER, Spidey >does< find that peace of mind he's so long sought out.
Molly brought BLACK HISTORY IN ITS OWN WORDS, by Ronald Wimberley:  "It's not a comicbook, but it's a series of portraits and quotes from famous AA people, and hopefully…well, white people can redeem themselves in this country."
Shawn shared F*CK FAIRYLAND, saying the main character "is trying to redeem herself, while doing sweet ninja moves." He also shared THE GODDAMNED (by the team who did SCALPED, another hero's redemption story), about the Biblical Cain, wandering the Earth, trying to find something that can kill him.
He also mentioned DOCTOR STRANGE: THE FLIGHT OF BONES, where the story focuses on Doc's shaky hands, and that while he may regularly be saving the world, he isn't necessarily helping any actual individuals, so in this story he seeks to "balance his aura" out a bit.
Xavier had some good books that definitely fit our theme. First up was the Kurt Busiek/Brent Anderson masterwork, ASTRO CITY. The story arc Xavier shared was the "story of Steel Jack, a sort of Spider-man-style villain, who's now an ex-con, and whose neighbors turn to him for help in solving a series of kidnappings." As Steel Jack tries to do right by his neighborhood, he discovers he >does< have something to offer the world.
Next up was DOOMED, similar to my ABSOLUTION share, where the book is about characters who are just awful, and completely avoid seeking any sort of redemption. It's an anthology book, in the vibe of CREEPY or other old horror magazines.
He shared an early collaboration of Ed Brubaker/Sean Phillips called SLEEPER, about an undercover super-cop, who gets stranded in his undercover role when his law-contact – the only person who knows he's NOT a criminal – gets killed! This was an early work from Brubaker/Phillips who have gone on to become the sorta Dream Team of modern noir comicbooks!
Xavier's final share was THE MARVEL UNIVERSE GUIDEBOOK, which was a series of "encyclopedias" of Marvel's characters. It was through reading this, that Xavier came to learn just how many Marvel "heroes" were villains at one time or another.
Don brought along a volume of the FANTASTIC FOUR, written by Jonathan Hickman, that dealt with Johnny Storm, a character known for his shallowness, but when called upon, rises to the demands placed on him.
Imperium was Don's next selection, from Valiant Comics. Redemption came in this story for a character who did work for a villain, but came to turn against him.
His final book was a find at the library, HOUSE OF PENANCE, about the myth of the Winchester "endless house".
This was our first meeting at a new location – BOUNCE MILWAUKEE, and they were great hosts! Again, Don put together a great trivia contest for us, and a Bounce employee won the prize from Lost World of Wonders!