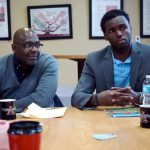 It's been awhile since we've had anyone come to MKE Creatives to talk about film/movies, so I was pretty excited for the April meetup at Anodyne Coffee. Donte McFadden and Ranell Washington came to talk with us about Black Lens MKE, the program of Milwaukee Film that showcases films made by African-Americans.
Donte is one of the two programmers for Black Lens (Geraud Blanks being the other). Donte spent 19 years at UW-M working through his Bachelor's, MFA, and Doctorate degrees. While there, he did a lot of community programming with the student union theater, and was in the Film Production program with Jonathan Jackson, exec/artistic director of MKE Film. All of Donte's experiences led him to becoming part of the Features Committee for MFF.
After the success of a film about Emmett Till, at the 2013 MFF, Jonathan wanted to create a feature group of the MFF, focused on AA films, and talked to Donte and Geraud about that. So, for the 2014 MFF, Donte and Gerard pulled together 8 films for the first Black Lens, and its been going well ever since! Each year, they watch between 30-40 films, to choose the 8 that will be shown in Black Lens.
Black Lens has been fortunate in that it has been able to receive a fair amount of corporate sponsorship for the program, and that has contributed to its success. Black Lens MKE is in the Top Five African-American Feature programs in the country, and Milwaukee Film Festival is recognized as being in the Top Ten film-festivals in the country. In 2016, the Academy of Motion Arts Pictures and Sciences recognized Black Lens' efforts, getting them a $10,000 grant to help keep the program going. Also in 2016, a Black Lens film was chosen at the Audience Choice Award at the Milwaukee Film Festival!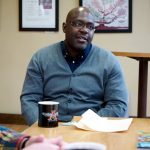 So, while Donte and Gerard work throughout the year to choose films for the festival, Ranell and Community Engagement Committee, work to cultivate interest in the program through various outreach efforts. Ranell, who works in small business banking, is also part of the Social X group. Like Donte, he too, is an alum of UW-Milwaukee!
The Community Engagement Committee has started a Black Lens-dedicated membership program. They also have had  a  night at a local nightclub – the next one is Thursday night, April 27.
So, if you like film, and plan to attend the festival this Fall, make sure to keep your eyes open for the Black Lens selections – you won't be disappointed!