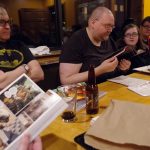 (click 'em to big 'em)
The February MKE Comicbook meetup was very well-attended and it's no surprise why – the topic of discussion was one that was easy to enjoy – "Favorite Non-Human Characters"! I know I was pretty interested to see what people would bring. We met at the Milwaukee Beer Bistro again, and had a real fun night. Here's what everyone had to share…
Don: TheAutumnlands: Vol. 1 Tooth and Claw – a very complex fantasy story with anthropomorphized animals, and just one human; Don said that it sorta reminded him of Princess Moanoke.
Avengers A.I – a short-lived series about a team of Avengers that were all robots/artificial intelligences, including a particularly snarky Doombot!
Nemesis the Warlock (a series born out of England's 2000A.D.). It's a satire of religion and authoritarianism, with amazingly detailed art from Kevin O'Neill (also known for the dark over-the-top satire "Marshal Law").
Jony: "Fantastic Four Versus the X-men" was a classic Marvel Limited Series from 1987. Jony brought it for its good use of Kitty Pryde's pet dragon, Lockheed. As Jony put it, "Lockheed has two aspects – he's adorable and he's bad-ass."
"Fallen Angels" was another 1987 Marvel Limited Series featuring lower-level characters from the X-men universe, and a few original characters. The group featured "Moon Boy and Devil Dinosaur (a caveman and dinosaur duo", as well as Warlock (a techno-organic alien), and Bill and Don – cyborg lobsters!
Luke: Hellboy is a "modern classic" of a character – a demon raised by academic humans, to become a supernatural adventurer, with one hand, literally, made from stone. Luke brough the "Hellboy: the Storm and the Fury" story to share.
From "Star Wars Tales", Luke shared the story of "Skippy the Sentient Droid", about a droid that gained sentience and sacrificed itself for the Rebel's cause!
I had a few books to share, and tried to think of ones that might be new to the group… I went back to 1993 Marvel UK, and brought the Limited Series, "Children of the Voyager", a suspense/horror story where a horror writer discovers that he isn't quite as human as he thought he was!
I also brought H-E-R-O, a DC book that IS about humans, but what makes the stories happen is a mysterious device that makes the humans something more than human.
Howard the Duck is a classic 70s character from Steve Gerber, via Marvel Comics, but he's been relaunched in recent years by Marvel, and Chip Zdarsky and Joe Quinones have been telling great stories!
Shawn almost always has a historically-tied-in comicbook and this month it was The Comicbook Story of Beer – the character is yeast and the ingredients of beer and the story starts at the Beginning of Time. Dang, that writer wasn't messing around!
-"Angel Catbird" by Margaret Atwood – "eh, it was so-so..I'm not saying it's amazing, but it's …interesting.
"S.H.I.E.L.D." was a 2011 Marvel limited series that re-imagined history through the prism of its "secret history", with various historical events being influenced by humans and…. others.
Molly brought the book with I think the MOST non-human superheroes in it, in the form of "Lockjaw and the Pet Avengers", another limited series that was successful enough to inspire at least one sequel!
Kate started with a confession: "I have a problem, and it's my obsession with super-pets". While the comicbook title was "Superboy", it was really "Krypto the Super-dog" that earned Kate's affection.
From DC's Vertigo books, was "Fables"  which is "such a well-imagined world" – where classic characters from children's stories have to leave their the fairyland, and move to NYC.
"Larfleeze" is from the Green Lantern sphere of comics, though he holds the Orange Lantern, which is all about greed. In the story Kate brough, Larfleeze, an intergalactic alien is hunting down Santa Claus.
While Rose's book featured humans, it was a book on a topic of interest to many attendees. "Rollergirl" about girls in a roller derby league.
Chris  brought in the excellent Hawkeye #11 by Matt Fraction and David Aja, who told the entire story from the viewpoint of Hawkeye's pet dog, Lucky.
The book that brought the most laughs of the night was "Breaking Cat News" a comic that features feline newscaster reporting on "all the news that matters to cats."
Jihan brought a book written by Brian K. Vaughan, who is fond of working topical/current events into his stories. The book was "Pride of Baghdad", about a group of lions who escaped the Baghdad zoo during the Iraq War.
He also shared the popular alien from DC Comics – not Superman, but Martian Manhunter! One thing Jihann liked about MM, was that his stories were located in a real city, Denver, CO, while most DC characters exist in fictional cities. In "American Secrets", there are lizard-people in the middle of a film-noir-esque story.
Emilio showed us a pair of vintage books from his extensive collection – Marvel Preview Presents… #7 from 1976, which featured the first appearance of Rocket Raccoon and "Fantastic Four" #35 which featured the 1st appearance of DragonMan (and also had an appearance of Charles Xavier and Spidey).
Matt P also had some Hellboy to share, though this was Hellboy Weird Tales, where various writers/artists were doing their take on the character that is normally only done by its creator, Mike Mignola.
The new "Flintstones" series has been getting lots of positive word-of-mouth, as being a very well-done, thought-provoking satire of modern culture. The issue Matt brought in had an updated version of The Great Bazoo (an alien).
He also brought in an issue of "Dinosaurs" (based on the 1990s TV series), "one of my fave TV series"!
Amber shared The Amazing Screw-On Heard – a one-off about a rather unusual secret-agent who works for Abe Lincoln. She also shared the "Escape From Bizarro World" Superman story by Eric Powell, "since Supes technically isn't a human, and neither is Bizarro!"
Never missing a chance to talk about Doctor Octopus, she brought in an issue where Doc's robotic arms seem to take on a life of their own! And, as Amber pointed out, Ock "even talks to the arms," further legitimizing them as characters.
Her last selections were Kamandi – "last man on earth", in a sort of flip on our theme, and Invader Aim, the comicbook that started out as a cartoon because "It's just soooo bizarre."
Matt F shared a Star Wars story that featured some non-human heroes and villains – like the evil droids and an evil Wookie, which naturally led to a fan-dream of "Good Wookie vs Evil Wookie" fight that I never realized I wanted!
Keita was impressed by DC's Raven: Rebirth, featuring "Rachel Roth", a half-human, whose parents were a human and a demon.
Steve brought a book he was editor on – the Scottish-folklore-based horror comic, And Then Emily Was Gone, featuring a Scottish monster!
The night had a great variety of books shared, and everyone enjoyed the night's trivia contest, with prizes from Don and Lost World of Wonders!