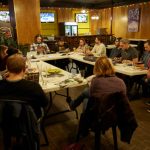 The January MKE Creatives was a fun, easy topic to talk about: What have you read in the last 30 days? Here's what the gang had to say…
1. Molly – Ms. Marvel: Civil War II trade-paperback – "the story was dealing with racial profiling and "precrime" arrests at a time when I'm thinking a LOT about civil rights and such."
–Invincible Iron Man #2 – "it was neat to see a girl outsmart a Tony Stark-designed artificial intelligence"
2. Andy – "I've been picking up stuff randomly at Half-Priced Books,…and I got DC's Identity Crisis trade. I had >no idea< I could feel so MUCH in a comicbook."
–Green Lantern: Blackest Night trade
–The Unbeatable Squirrel-Girl trade of her early appearances . "USG is the one comic maybe 6-7 of us here buy every month!"
3. Chris – the latest issue of Spider-Woman, which that dealt with the relationships between Porcupine, Spider-Woman, and Ben Urich.
–A.D. After Death – "takes place in a world where death has been cured…so there's people who are 800 years old." Written by group favorites, Scott Snyder and Jeff Lemire.
–The Fix, about two crooked cops and a drug-sniffing beagle.
4. Kate – Vol. 1 of Descender – "Dustin Nyguen is SO good."
–Plutona – written by Jeff Lemire – "some kids go into the woods and find the dead body of a superhero – and THEN it gets horrifying!"
–Buzz – the story of a young boy who's walking to school when he stumbles across a back-alley spelling bee.
5. Amber – DC's The Flintstones is "on top of it! It's top-notch!"
–Sex Criminals Vol 1 – I keep re-reading it because it's just that good and funny.
6. Me – Wonder Woman: the Twelve Labors – a trade reprinting some classic 1970s adventures of WW.
–Doctor Strange and the Sorcerers Supreme – a great, unusual team book about magicians we've mostly not heard of before.
–Squardron Supreme: Timely Comics – Marvel is doing a neat thing here, reprinting the first 3 issues of certain titles, then selling it at a very reasonable price!
7. Shawn – Moonshine: a Prohibition-era tale about werewolves from the team who created 100 Bullets
–Star Wars – he's really enjoying reading it with his son.
–Champions – good for kids and adults, one issue was about empowering women in a foreign country
8. Jony – re-reading old Power Pack comics she got from Emilio!
9. Luke – "I'm following in the 'what's old is new' trend, and re-reading the Marv Wolfman/George Perez issues of Teen Titans
–Power Man and Iron Fist: Christmas Special – was great because >Krampus< and a Santa that kicks butt
–Jim Henson's Storyteller: The Giants – folk tales told really well
–Future Quest – "like Johnny Quest, it's just FUN!"
10. Jihann – Batman – "currently in an arc dealing with Bane, narrated by a letter Bats has written to Catwoman about why he's Batman."
–Green Arrow – "every issue is either action-packed or dealing with social issues – as it should be!"
Detective Comics – as it's transitioning into Batwoman
11. Don – No Mercy – "there's lots of threads going on as the kids try to survive the bus crash."
– Kill or Be Killed – "the protagonist tries to commit suicide, mysteriously survives, then learns he has to kill someone once a month in order to not die" and it goes from there!
–Mooncop – "he's a cop, he's on the moon, but not a lot happens on the moon."
–Rolling Blackouts – a biographical comic, the author follows some journalist around the Middle East.