(as I couldn't attend this meetup due to a last-minute photo-assignment, Kristine Hansen, local writer, attended and wrote this up, with a photo from Kerri Grote!)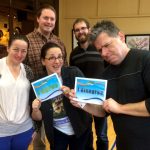 A small group of us gathered at MKE Creatives' first meeting of 2017 last Tuesday, in Anodyne Coffee's Walker's Point Roastery location. (Want to join us? This is "our" meeting space, at 10 a.m. on either the first or second Wednesday of the month, and we'd love to have you! Here's the current schedule.)
Our fearless leader, photographer Troy Freund was sent out on a last-minute photo shoot so he asked me, one of the three co-founders, to round up the troops. While we started small, the group soon mushroomed to about eight of us, which we found was the perfect size to engage in guest speaker Ryan Clancy's "icebreaker" games.
But first, let me tell you a little bit about Clancy. The Bay View father of five opened Bounce on Milwaukee's South Side, near the Bay View border, with his wife Becky in 2014. They now have 22 employees. The idea came to the couple after discovering there weren't a lot of places—if any—where his five kids of varying ages could all have fun. Different from concepts like Chuck E. Cheese's and Dave & Buster's, Bounce has a bar (for adults), plus activities like laser tag, vintage video games and rock climbing (for kids and adults). And it turns out his previous career as a high-school teacher and mentor in MPS came in handy. He and Becky truly believe in paying their employees not only a living wage, but giving them quarterly bonuses and tuition reimbursement. Together they are committed to local sourcing, such as Sprecher Brewery soda instead of Coca-Cola or Pepsi products.
Back to the icebreaker games… First, we sat in a circle on the floor and, with each of us holding on, moved a circular belt between us. When it stopped in front of someone, he or she made a statement that, by asking three questions, we were to determine was either true or false. Let's just say we learned a lot about each other! For game #2, we also engaged in movement. When a statement was read out loud, we could either move to the "I Agree" side of the room or the "I Disagree" side of the room. While some of the questions were surface-level (such as whether or not you think chocolate ice cream is the best), we dug a little deeper into ourselves as we explored topics like friendship, living in Milwaukee and our creativity. I enjoyed getting to know better those who I'd met a year ago or more—it's amazing what games can do!
Next meeting is Wednesday, February 8 at 10 a.m., also at Anodyne Coffee's Walker's Point Roastery. Hope to see you there!