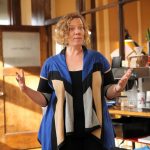 (clicken to biggen)
The last MKE Creatives of 2016 was a wholly appropriate one to close out the year, to send us into 2017 invigorated and inspired. Anodyne Coffee was again our host, and a local independent writer, Kerri Grote, was our feature presenter. In attendance  were Carley (the fine artist behind The Curious Artist podcast), Michelle (audio-technician and voice-over actor), Paul (a real-bearded Santa and storyteller), Angela (half the power-couple behind Married In Milwaukee), Paul (a creative strategist for small creative businesses), Paul W. (a graphic designer, and partner in Photavia), John (a local CPA and investment advisor), Tracey (a budding filmmaker and significant part of the ZipMKE Project (which has a display opening in January at the Milwaukee Public Library), and me (a photographer, trail runner, and fan of connecting dots between folks)!
Kerri, our presenter, is an independent writer, communicator, storyteller – and has a background in broadcast journalism and corporate communications. It was during her broadcast journo days though, that she said she had her best job – as a "celebrity karaoke host" out in Sydney, Montana!
While preparing for her talk, Kerri mentioned how she had some feelings of "impostor syndrome", and recognized that, probably, many creatives have those feelings, too, that nudge saying we're not good enough, or legit …and this led Kerri to remember a time years ago, during that time as a TV Reporter in Middle of Nowhere, Montana …and the big news story of the day was a new storage silo – and it meant her climbing up to the top of this 12- or 15-story silo, …and the wind was so strong up there and for a moment she looked out and felt an urge to jump, then wisely ignored it, but that moment led to her learning this impulse actually has a name – "high place phenomenon", or as the French so eloquently call it, "l'apell du vide" – the Call of the Void …and it's an actual thing, and apparently about 30% of the population have felt this at one time or another …and this got Kerri thinking about other times when we get creative impulses, but ignore this "creative call of the void".
Kerri came to recognize that so many of the things that have become BIG in her life resulted from her feeling a creative urge, or a "curiousity about something" urge, and then saying HECK YES to it, despite also feeling a little unsure or scared. And, she has also recognized that Fear can be a hella big opposition to accepting those creatives urges. Not long after those days of on-TV reporting, Kerri found a corporate communications job. Within a month, she knew it wasn't ideal for her, but still …"it's stable, you're paid well, you have a great job, you're good at it…" and eighteen years later she was still there. Even if it didn't feel fulfilling.
About three years ago though, Kerri had a health crisis that made her seriously reconsider what she was doing with her life. And ever since then, she's been working on saying HECK YES to her gut and instinct. And, "sure, the HECK YES moment is often followed closely by the OH SH*T moment, but…but that HECK YES moment was there, and you have to latch onto >that<, in spit of the OH SH*T."
Kerri's embracing of the HECK YES has led to some amazing experiences for her in the past three years. There was taking an improv comedy class that culminated in a performance in front of 700 people. There was helping build a timber-frame house in West Virginia. There was attending Camp Good Life Project. There was leaving that corporate job to be an independent writer.
The biggest lessons she got from her improv class were the "YES, AND" notion and the "discovery vs invention" notion. As she learned, improv isn't necessarily about being funny, but about going forward and making choices. Her coach had said, "You need to learn to love your choices – choices are about DISCOVERY, not invention." (now, I do think that needs some time for thought, so I'm hoping you write that down and re-read it a few times over the next week or so)
Now more than ever, Kerri suggested, we need to listen to those urges of creativity, to listen to our inclinations, push aside the OH SH*T and embrace the HECK YES. "We don't just 'need' to listen to our urges; we have an >obligation< to listen to them, and to keep practicing saying YES …and to be gentle with ourselves because every day is a challenge and we just have to keep trying."
+++
Kerri's presentation sparked some good discussion and some ideas…
-"beware of "practical"."
-"everybody's path is different, everybody's circumstances are different."
-"having a job that gives a certain sense of "security" doesn't mean the OH SH*T goes away."
-"We all have to decide what's good for us, because >everything< is a trade-off of some kind."
-"you can get more money, more friends, more whatever, but you can't get more time…"
+++
Whew, what a fabulous, thought-provoking, soul-stirring way to close out 2016. I can't thank Kerri enough for talking with us, and really, to ALL of the presenters of 2016 for their sharing with us! Check all the past meetups HERE, and see you in 2017!
(NEXT MEETUP IS JANUARY 11 and will feature the braintrust behind Bounce Milwaukee!)