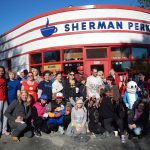 For two years, I've been organizing the "MKE Cosplay 5k" – a combination geek-event, 5k run/walk, and donation-raiser-for-a-local-nonprofit. On October 23, a whole bunch of Milwaukee's geeks came out and ran around the neighborhood of Sherman Park, and raised donations for Wisconsin Community Services!
Our start and finish was at locally-owned coffee-shop, Sherman Perk, who were great hosts! 🙂 It was a beautiful, sunny October day for the run-walk and it went really well. Besides the good energy of all the participants, there was also a Girl Scouts troop who volunteered, providing a water-stop for everyone at the half-way mark, and local energy-worker, Linda Catterson, was on hand to provide reiki to anyone who wanted.
The beneficiary of this run/walk was Wisconsin Community Services, a local non-profit that has been around for over 100 years! Their original motto was "friend to the friendless" and that really resonated with me. They started out with a mission of helping ex-prisoners and the families of prisoners. Nowadays, they have a whole slate of social programs they run – helping people deal with mental health issues, prisoner/ex-prisoner/family of prisoners issues – in general, they work to help residents to overcome the adversities they might face. In their own words, they are "Creating Opportunities to Overcome Adversity". Here's a photo from when I delivered our donations!
See some photos of the event below, and HERE and HERE.
++++
The next MKE Cosplay 5k will be May 6, 2017. You can find the details as there are finalized HERE and HERE. MKE Cosplay 5k is also on Twitter now, and can be found HERE.
++++
Past MKE Cosplay Neighborhoods (and photos of the events)/Beneficiaries…