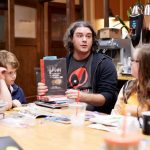 (click 'em to big 'em)
November's MKE Comicbook at Anodyne Coffee had a topic was a one I was excited for – "History". What I enjoy about our meetups, is that we really don't put restraints on how people can interpret some of our topics – so sometimes the "entries" people bring are silly, sometimes serious, and this month followed right in that tradition.
Shawn, a high school history teacher, brought some great books. They were:
–GODDAMN THIS WAR – a history of World War 1,
–The Plot, by Will Eisner, about an anti-Semitic hoax that persisted for many years,
-The Murder of Abraham Lincoln, by Rick Geary,
-a collection of Will Eisner's comicbook maintenance manuals for the Army,
–The Great American Dust Bowl, and
–The People's History of the American Empire.
Amber had one book to share – and it was an issue of Captain America where he fights the President of the United States, who's been turned into a man-snake monster!
Kate, a librarian, brought two fictional, historically-based accounts:
–Onwards Towards Our Noble Death – a story about World War II, through the eyes of a soldier in the Japanese Army, and
–When the River Rises – an imagined story based on actual events, about a group of juvenile prisoners during the flooding of New Orleans/Hurricane Katrina.
Jony shared Sandman, because the book "does a lot with history, and this particular book goes through a lot of different eras."
Molly had another New Orleans/Katrina story – "A.D: New Orleans After the Deluge", which utilized some interesting storytelling methods and changing perspectives to tell its tale.
Jihann shared the classic Maus Vol. 1 and 2. For those unfamiiar, Maus is a Pulitzer Prize-winning biographical graphic novel that the creator, Art Spiegelman, made about his father's experience in the concentration camps of WW II. In this book, though, the Jews are shown as mice, and the Nazis as cats.
Jihann also brought JSA: The Liberty Files, an "Elseworlds" story, putting classic DC super-heroes in a WW II story.
I brought a few comics to share with the group:
–Neurocomic – a graphic novel attempting to explain how the human mind and memory works, and visits with many historical figures who have studied this topic,
–Sgt. Rock: The Prophecy – a modern limited series by Joe Kubert, about his iconic character – Sgt. Rock  and Easy Co. – engaged in a deadly WW II mission,
–U.S. – was a two-issue limited series from DC/Vertigo that was a strange, compelling "fever dream" of American history,
–The Nam Vol. 1 – a fictionalized account of one soldier's experience in Viet Nam, edited by writer and veteran, Larry Hama (most well-known for writing every issue of Marvel Comics' G.I. Joe!),
–Hyperion/Nighthawk – a Marvel limited-series where the two powerful heroes tried to deal with the Rwandan genocide of the 1990s.
Emilio shared The Secret History Omnibus and animation cel artwork he owns from the cartoon "My Friend, Martin" and also from "Pink Panther" and "Dilbert", among others.
Jeff had three had three history-base comics to contribute:
–Trinity – about the Manhattan Project,
–Feynman – about the physicist at Los Alamos, who was also a safecracker, who loved playing the bongo drums, and
–Logicomix – a comic that manages to take very dry topics and make them accessible.
Nat, who teaches history at Alverno College, brought Abina and the Important Men, a comic he uses to help teach about colonialism in Africa, and also brought Waltz With Bashir, set in Israel, about the war with Lebanon.
Don shared a few books:
–Strip AIDS USA – an anthology about the AIDS crisis in the USA,
-an issue of Vertigo Quarterly that focused on one of the Harlem Hellfighters of WWI I, and
–The Red Virgin and The Vision of Utopia.
Luke didn't have any books to share, but mentioned he'd wanted to bring "an issue of The Shadow, where "The Shadow meets The Spirits and accidentally down the Hindenberg!"
Sue, who has been a political cartoonist and editor since the 1970s, brought WW III Illustrated – an anthology that she is one of the editors on. It's a magazine that works with an international lineup of creators and has been publishing since 1979! She also brought WOBBLIES, another anthology, where she illustrated a story on the history of free speech. She remarked on her career, "Since you don't make money doing political comics, particularly as a woman doing political comics, in 1967…I worked as a school nurse (to make a living)."
Again, a lot of good books were brought, and more than a few that I want to track down and read now! Thanks again to Anodyne Coffee for hosting us, and Lost World of Wonders for providing trivia contest prizes!