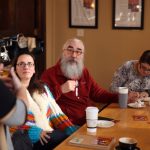 MKE Creatives, a networking group for self-employed creatives and the folks that work with, and for, them is heading into its third year of monthly meetups! While the presenters are still being finalized, the dates have been decided – so mark your calendar!
Jan 11 – Ryan Clancy and Becky Cooper Clancy are the creators and owners of Bounce Milwaukee, a family entertainment center with a strong local focus. Years of experience in education, nonprofit management and with their own 5 kids led to the invention of a place for all ages to play and celebrate together. They continue to look for ways to improve not just their business, but the lives of their employees and the city at large.
Feb 8 – Nick Demske, of the Racine Library System's BONK! Series
March 8, 6:30-9:30 –  Evening Social at Create Space MKE, in the Communications/Fine Arts Building at Cardinal Stritch University. Find final deets posted at our Facebook page. Where last year, we had our social at Draft & Vessel, this year we'll be responsible for our own libations, so it's BYO – but keep it non-alcoholic, as we will be on a university campus! CHANGE OF LOCATION – 03/08/2017: DUE TO A POWER OUTAGE AT STRITCH, WE'LL BE MEETING AT BOUNCE MILWAUKEE!
April 5 – Donte McFadden, Milwaukee Film's "Black Lens MKE" program
May 10 – Yessica Jimenez, a local illustrator, often makes pieces that tackle contemporary social and political issues.
June 7 – Tactile Craftworks is an American Made leather crafting company, aiming to balance the comforts of home with the lure of adventure. We strive to make pieces that are long-lasting, beautiful to look at, and satisfying to hold.
July 12 – Kimberly Boldt, of the Milwaukee Public Library, system will talk about what life as a public librarian is like, and how they serve MKE!
Aug 2 – Talemwa Joel, of Gujja Ting, is going to talk about life in Uganda, and his experiences as a dancer. Event page HERE.
Sept 6 – Jessica Becker of the WI Humanities Council
Oct 4 – large-format photographer, Cherie Morfe, will talk about her landscape and still-life work, utilizing the Zone System (developed by Ansel Adams)
Nov 8 – Dominic Inouye is going to be talking about the MKE/photo project he founded, ZIP MKE!
Dec 6
The format of each meetup is pretty simple – people start arriving at Anodyne Coffee's "Laboratory" about 10:00a. Around 10:45a, the day's presenter takes the floor, talking about whatever topic they want for about 15-20 minutes. Once that is done, and Q+A have been done, people just continue chatting and getting to know each other till about noon. There's no requirement to be there for the entire time – people come and go as their schedules allow. There is no cost either, but I >DO< ask that people strongly consider getting a coffee or drink of some sort from Anodyne, as they have always been very good hosts to MKE Creatives and MKE Comicbook.
MKE Creatives does have a Facebook Page, and while there is no Twitter account, if you search #MKEcreatives, that will usually turn up tweets about it.