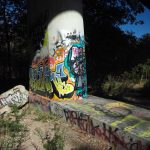 In October, I tried out something new. I've long been an supporter of trying to bring advocacy and fun together , believing that people >can< have fun AND make a difference at the same time – that's a big part of what MKE Cosplay 5k is about, after all. This time though, I wanted to bring together my affections for the Milwaukee River Greenway (and other MKE waterways) and photography.
A big challenge for many non-profits and advocacy groups is to make the general public aware of their missions. So, teaming up with my friends at the Milwaukee Riverkeeper, we launched "RiverPixMKE", a riverside-event, encouraging users of Instagram to: come out on Oct 21, makes photos of Milwaukee's waterways, and then post their images to IG, tagged with #RiverPixMKE. I thought this could be a neat way to get some of MKE's shutterbugs to support our river-system and flex their creativity at the same time!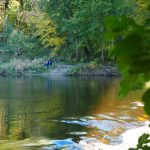 To make the event more attractive to photographers of all experience levels, I was able to get local filmmaker-photographer Dan Wilson to join me. At the appointed time, I went down by the River, beneath Locust Street – on the west side of the river – and Dan went into Riverside Park, on the east side of the river. He made pictures with his medium-format camera and was going to talk with people about his work and how to do better landscape photography. I hung out on my side of the river, and was going to give photo-tips to anyone who came by, wanting to be better at using their camera!
A few people did come by, including: local naturalist, Eddee Daniels; family-blogger and trail runner, Amber Storm; photographer and energy worker, Linda Catterson; local artist and arts advocate, Jenny Heyden.
It was a beautiful day, and made for some good picture-making. I'm sure we'll do "RiverPixMKE" again, and hopefully have an even better attendance! Still, we DID fulfill the mission of making more people aware of the beauty of the MKE River through our photos!