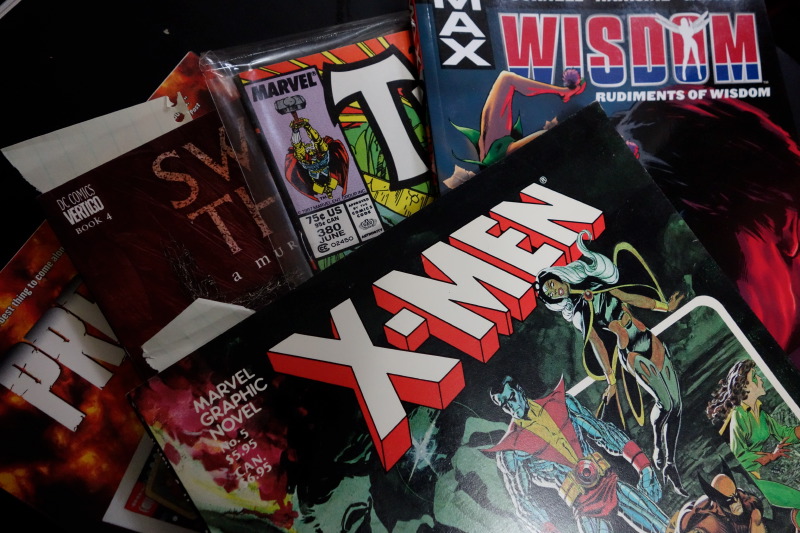 03-12-2013
+I'm real excited to announce a special event coming to Bay View this May! I'm a comicbook fan and have wanted to put together a special event celebrating them for a long time. May 4, 2013 will see a special exhibit highlighting the wonderful and varied artwork in modern comicbooks and will also have a special "live" reading of scenes from selected comicbooks! I've been collecting original artwork from some of my favorite artists and titles for a few years now and wanted to share these great pieces with a larger audience. Artworks that will be featured are from the following artists (so far): Darick Robertson, Steven Sanders, Phil Hester, Marcel Frusin, and Matt Chic! Alas, the artists themselves won't be in attendance – just their art!
This event will take place at "Z Chiropractic", 2331 S. Kinnickinnic Avenue in Bay View, right across the street from Milwaukee's largest comicbook store – Collector's Edge. This is just south of the intersection of KK and Lincoln. Z Chiropractic is a great little space that regularly shares its walls for gallery-shows!
The show will be open from 11:00a till 5:00p.
The "dramatic readings" of selected comicbook scenes and scenes from "Rise of the Tiger" will take place at 1:30p and 3:30p, and will take about 45 min.
There will be a closing reception on May 24th, from 5-8p (but no "dramatic readings").
Between May 4-24, the exhibit will be open Tuesdays and Thursdays from noon-6p.
To learn more about Free ComicBook Day, go HERE.
To RSVP at the Facebook invite, go HERE.
Look for updates below, as I get them
2013-03-15: the live script-reading will include scenes from: Soldier X #4, Alpha Flight #24, X-Men: God Loves, Man Kills, Dardevil 229, Swamp Thing 50
2013-03-18: additional scenes for the live-reading will be from: 4 #4,  Preacher #66, The Dark Knight Returns: Book 1…
2013-03-21: received two additional pages for the exhibit – a Bob Hall "Shadowman" page and a Ron Wagner "Nth Man"! Very exciting!
Here is a lo-res view of the Ron Wagner page.
2013-03-23: additional scenes for the live-reading will be from X-Factor #13 (2007), Uncanny X-Men #137 and  The Mighty Thor #380.
2013-03-25: Confirmed today that author, Lisa England, of the web-serial "Rise of the Tiger" will be a part of the May 4th event! There will be original artwork from the website and Lisa will read an excerpt from the novel! Find "Rise…" HERE on FBook.
2013-03-28: Gunga-din, but I am excited for this show – it just keeps getting better and better! Ryan Claytor, of Elephant Eater Comics, has agreed to share two pages from his autobiographical comic "Better Together"! (these pages will be for sale, too!)
2013-04-01: I've added a few photos (below) of the event's location – Z Chiropractic in Bay View! I've also uploaded a short video of Lisa England giving a brief as to what "Rise of the Tiger" is all about! Find that video HERE.
04-10-2013: On May 4th, the exhibit will be open from 11a-5p. At 1:30p and 3:30p, a group of performers will take the stage and present dramatic readings of a number of scenes from comicbooks. Troy Freund will give a little context before each scene and then let the performers take it away! Included with the readings will also be two readings by Lisa England – sharing excerpts from her web-serial: "The Rise of the Tiger"!
The dramatic readings will take about 45 min.
05-02-2013: Today, SPOILERS! got a real nice write-up from the blog Cricket Toes. See the post HERE.
CSU Visual Arts, Shepherd Express, Bay View Compass and JS Online
05-03-2013: Last night was the rehearsal for SPOILERS! and it was GREAT!
05-08-2013: All the actors did GREAT! Here's videos of the #SpoilersMKE "live reading" of some excellent comicbook scenes!